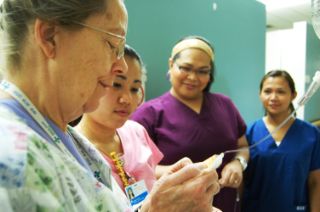 A recent College of Licensed Practical Nurses of Alberta blog post (Let's Get Some Facts Straight!) generated overwhelming response from our members, and for this we thank you. The passion and commitment within the Licensed Practical Nurse profession is boldly evident, but the ongoing frustration is also evident.
Health care is inherently interprofessional. It takes a team of providers for quality health care delivery. No single profession can or should deliver all the services required by a patient. Therefore, it makes sense to have different levels of education within providers. Think of it this way, it wouldn't make sense to have a person educated at a PhD level providing basic nursing or starting all the intravenous lines. Different levels of education make sense; it is not a bad thing that we are different! The trouble is our differences are not valued.
In a recent study of Licensed Practical Nurses and key external leaders, trust and respect within nursing, at all levels, was identified to impact team dynamics, collaboration, and communication. A lack of trust and respect for the competencies, role, knowledge, and experience within nursing has caused huge issues within team cultures throughout the system. The power struggles in teams affect everyone, including the patient – the one we have all pledged to help. These issues are immense and it will take many of us, focused on patient centered care and interprofessional collaborative practice, to ensure positive long term change. Teams should model examples of excellence, as showcased at the Okotoks Urgent Care Center featured in the Fall CARE magazine. We also must let go of old beliefs and try to understand each other better.
Education in the Licensed Practical Nurse (LPN), Registered Nurse (RN), and Registered Psychiatric Nurse (RPN) professions is designed to be different (Knowledge and Education Project (KEP) Report), because of the inherent uniqueness in the approach to nursing taken by each nursing profession. Aren't differences and diversity a good thing? Perhaps the issue is not so much about educational differences, but similarities and overlap that blur the lines between roles in practice. It is obvious from comments on the "Let's Get the Facts Straight" blog post that employers and practising nurses remain challenged to differentiate the role of the LPN, RN, and RPN. We are simply not utilizing each nurse to their fullest potential when we utilize a two-year and four-year nurse in the same way. And it is clear that when one provider is underutilized, all providers are underutilized (White et al, 2009).
It remains an incredible challenge to build and support interprofessional collaboration focusing on patient centered care. However, we believe positive steps are being made to address these issues. Alberta Health Services and other employers are examining roles and responsibilities within the interprofessional practice team, and supporting leaders to make change happen. As Albertan's we should all expect this!
Nursing is hard work; it can be mentally and physically exhausting. Most people are not drawn to it because of money or prestige, they are drawn to it because of a genuine desire to care for people and help them reach their full potential. It's time health care teams focused on a common vision – to provide the best care possible to those we serve. And the only way we can do this, is to work together!
Use the Comments below to share your stories about positive examples showcasing interprofessional collaboration.
One response to "It Takes a Team!"